Ultra Jet
Ultra Jet Pump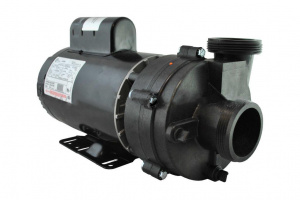 Finding the right spa and Hot Tub replacement parts and accessories is easy when you shop at Cedar Tubs Direct because we stock a vast selection of products, from chemicals to Ultra Jet pool and spa pumps, to balboa Hot Tub heaters, as just a few examples. We already supply dozens of satisfied clients with chemicals that help maintain sparkling clean Spas and Hot Tubs, and our prices are all well below recommended retail so you can look forward to massive savings when you shop at our online store. Pentair Ultra Jet pumps are one of the most highly sought-after brand names on the market because of their reliability, so if you are looking for quality replacements pumps that will not let you down, you can choose Ultra Jet with complete confidence.
Ultra Jets from Pentair pumps are constructed from tough durable materials, and operate whisper quiet, plus their energy efficient operation will save you money. Whirlpool circulatory hot tub spas operate off Ultra Jet pumps and you can configure the connection any way you prefer when fitting it as a replacement pump. This pump also comes with a drainage plug, which means when it is not in use the Ultra Jet can be drained of water making it very hygienic for hot spas. In colder regions, this feature prevents freezing that can damaged pump heads and ports, debris build up is also prevented. If you want to have a look at all the specifications of the Ultra Jet pumps we have in stock, then check out the spa and pool pumps, and you will also be amazed at the low price of our Ultra Jet from Pentair.
When it concerns the best quality in pool and spa pumps, then Pentair Ultra Jet can be chosen with confidence, and the plumbing connections can suit most couplings for heated whirlpool spas and pools. A pump is used to keep water circulating and push it through filtration systems to keep the spa clean. Many spa pumps operate through different speed settings according to set requirements. If the water will be passed over a heater element, then it will be set at a low speed to accelerate water temperature.
Most spas are fitted with two pumps, with the one solely used to provide the water jets, which provide spa users with the massaging action, and the other dedicated to filtration and water heating over the element as previously mentioned. It is important to choose the correct Ultra Jet pump for your spa, and if you are not sure you are welcome to contact one of our expert consultants, or use the live help feature on our website when available. Choose the Pentair Ultra Jet pump from us with confidence. Pentair Ultra Jet are quality, and they are offered to you with a full three-year warranty for your peace of mind.