Balboa Spa Heaters
Balboa Spa Heaters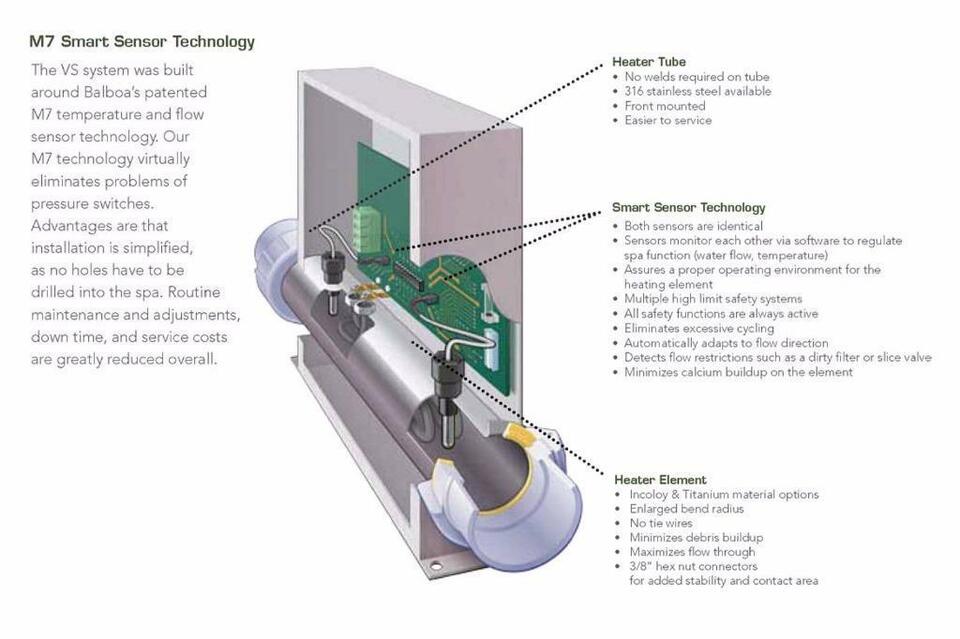 Cedar Tubs Direct has selected to sell the Balboa spa heater based on one factor only - high quality. Balboa spa heaters can replace almost any other brand of spa heaters and our experts will ensure that customers will receive the correct replacement model. If the customer finds that his/her existing spa heater is beginning to fail they may find that it is less expensive to replace the older unit with a newer, energy-efficient unit.
The digitally controlled Balboa Spa Packs use a patented M7 technology and are the most reliable in the industry. M7 control is used in all of Balboa's current spa control systems. It is a field proven control system that provides additional reliability and ease of installation when compared to older spa control systems. The software based M7 control system makes decisions based upon temperature and flow conditions that exist within the heater. The M7 technology opens new possibilities since the system and heater can be mounted on either the suction or pressure (discharge) side of the pump.
Balboa's M7 systems feature automated diagnostics, electronic non-pressure switches, and dip switches, some of which can be configured in the field for greater flexibility. M7 smart sensors offer multiple high-limit safety systems, eliminate excessive cycling, and automatically adapt to flow direction. Most of the components in a spa create electrical noise that can interfere with a variety of spa equipment, to suppress this noise, Balboa's line of controls features built-in hardware and software filters that optimize hot tub electrical operations. Balboa heaters with M7 technology now feature onboard output connectors, eliminating the maze of wires in the enclosure and ultimately reducing assembly time, corrosion, and the margin for error. Connectors that are mounted on the board are less likely to come loose since they are inside the enclosure. This also means that there are fewer holes in the enclosure, so the entire system is protected against moisture and chemical intrusion. High amperage components such as heaters, pumps and blowers can cause undo wear and tear on relays if they are not turned on correctly. Balboa's EL/GL line of controls uses "zero crossing technology," so those components are turned on and off at the optimal zero crossing of AC power. This means relays can be expected to last virtually a lifetime. For serviceability, the new BP501 systems include a new single board configuration and have Balboa's new quick connect heater system. No more removing heater straps just unplug the old heater and plug in a new one.