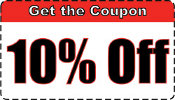 Click to Get Instant 10% coupon


Filter Cleaning Tool

Attaches to a garden hose to quickly comb out filters

Cleaning a filter regularly will greatly reduce the need for chemicals. It is recommended that a filter be cleaned every 2-3 weeks for optimal performance. This filter cleaning comb, attaches to a regular garden hose and allows you to quickly get inbetween the filter pletes for quick and thourough cleaning.

Your #1 Hot Tub Parts Replacement Store!

Add to Cart:



Model: NLCT-C1
Shipping Weight: 1lbs
18 Units in Stock
Manufactured by: Northern Lights

This product was added to our catalog on Wednesday 31 December, 1969.