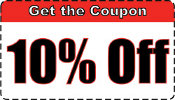 Click to Get Instant 10% coupon












PN 30344 consists of the standard thermistor temperature sensor that is used in the M7 series of Spa packs, such as in the VS, GS, EL and GL series. lead length is 12 inches. Each spa pack uses two of these. If these sensors become unmatched such that an Sn error message appears one of the sensors (or both) needs to be replaced to reestablish a matched pair.


Add to Cart:



Model: Balbao 30344
Shipping Weight: 1lbs
10 Units in Stock
Manufactured by: Balboa

This product was added to our catalog on Tuesday 03 January, 2012.